What is the Pollinator Meadow at Darrow Road Park?
The Hudson Parks Department, City of Hudson, Hudson Park Board and the Friends of Hudson Parks together with the US Fish and Wildlife Service – Partners for Fish and Wildlife Program Ohio Private Lands Office have created a 5.5 acre Pollinator Meadow at Hudson's Darrow Road Park. See below for a presentation on this project.
In the last 50 years, 2.9 billion native birds (30% of all birds and 40% of song birds) have been lost in North America. Native meadow dwelling birds like the beautiful Meadowlark have declined by 82% and have disappeared in meadows where they were once abundant! During this same short time span there has been an unprecedented decline of 37% wild bees, 33% native butterflies (Monarch populations have collapsed), 60% mammals and a staggering loss of 80% of all insects. These incredible losses may be leading to irreversible ecological change and complete loss of functioning ecosystems. Habitat loss is playing a major role in these devastating declines.
Most suburban areas such as Hudson have few native forest or flowering meadow areas left. Much of the open land in our parks has been invaded with non-native species that choke out our native plants to create sterile monocultures that don't support our native pollinators, native birds or other wildlife. As a result, Hudson has begun a program to try to reverse this ominous trend on a local level by restoring a six acre meadow in front of Darrow Road Park to a rich native pollinator meadow filled with native flowers and grasses that will feed our native birds, butterflies and over 450 species of native bees with pollen and nectar and a rich variety of native insects.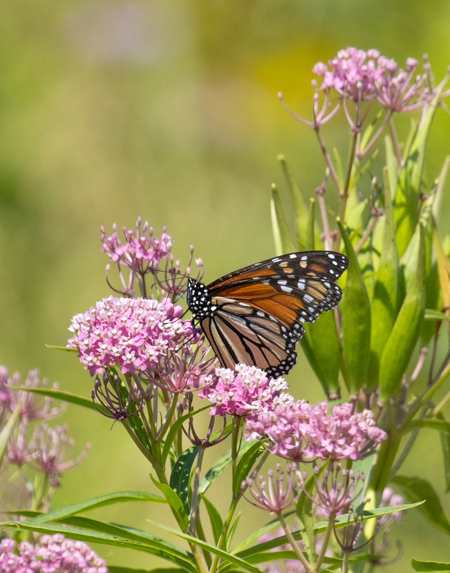 Darrow Road Park serves as one of the headwaters for the Tinkers Creek Watershed, and almost 38% of the park is a designated wetland environment. The current 5.5 acre meadow area in the front of the park consists of a small parking lot, a portion of mowed invasive cool season grasses, and a large section of overgrown field filled with invasive cool season grasses, non-native Eurasian Bush Honeysuckle, Canada Thistle, Autumn Olive, flowering spiny Callery Pear, Common Teasel and Glossy Buckthorn. Few native flowering plants are able to grow amidst the smothering layers of cool season grasses and non-native bushes and trees.
The 6 acre Pollinator Meadow at Darrow Road Park habitat restoration has reintroduced lost native flowers and grasses to support and restore native populations of bees, butterflies and other beneficial insects and increase the population of song birds that will use the meadow for seeds and insects and nest in the surrounding forest area. This restored meadow will increase wildlife biodiversity, improve soil and water quality and offer a beautiful meadow environment that will be a great educational tool for students and offer residents beautiful flowering meadow trails to walk.
The Pollinator Meadow Project would not have been possible without the efforts of Marcia Carsten. Read more about Marcia here.